Village Halls Week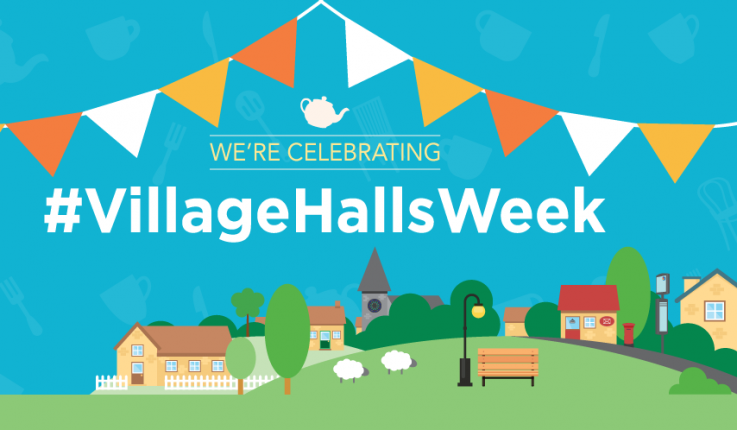 Celebrating Village Halls Week
Northumberland's village halls first joined together to celebrate the inaugural national Village Halls Week in January 2018, to celebrate the vital role they play in sustaining rural communities. Subsequent years have seen further events gathering Northumberland's volunteers together.
The week-long celebration, organised by ACRE Network, England's largest network of rural community support organisations, is to say a collective "thank you" to all volunteers who work tirelessly to keep community buildings and village halls open for the benefit of local residents.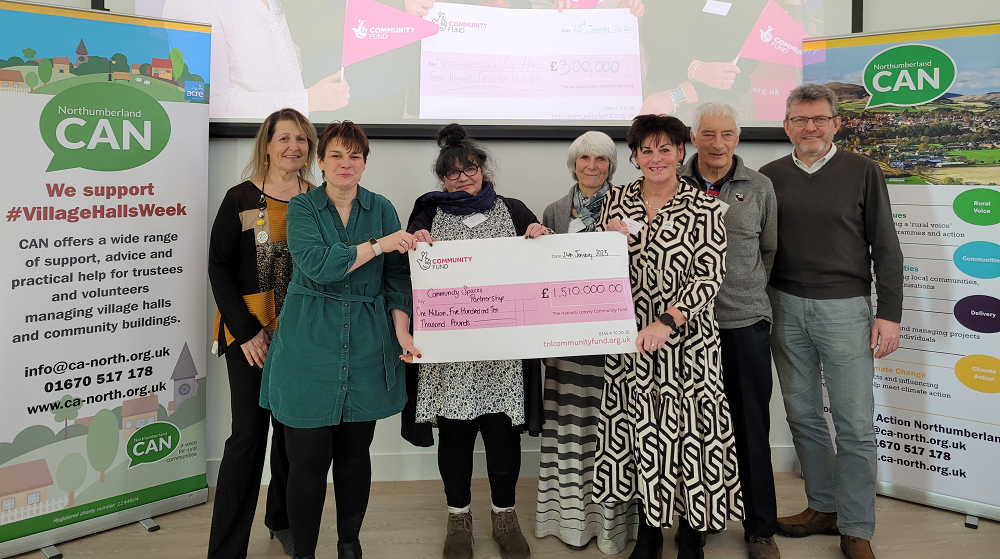 2023 celebrates warm, welcoming, inclusive spaces
Over 80 Village Hall volunteers came to Northumberland's newest village hall on Tuesday 25th January to celebrate national Village Halls Week.
Ellingham village hall was demolished and rebuilt last year to become an energy-efficient building complete with solar panels, heat pump and beautiful views over the countryside. Two trustees from Ellingham shared the story of how they successfully raised funding for the new build, ensuring a bright future for the hall and community.
The Rural Design Centre Innovation Project provided an update on plans with CAN to install solar panels with battery storage on community buildings. Northumberland CVA shared ideas for putting on activities in halls for children and young people and consulting with them.
The National Lottery announced further funding on the back of our 3-year successful partnership to fund refurbishments of village halls.
CAN staff gave updates on our Village Halls Heritage project and our Warm Hubs initiative going national with a new toolkit of guidance.
2022 celebrates innovation
Monday 24th saw 40 Northumberland's village hall representatives gather together for an online celebration event by CAN.
This 'Do Something Different' Celebration, facilitated by Louise Currie and Tracey Morgan CAN's Village Hall advisers, included a range of stories of innovation from village halls.
Newcastle University gave a presentation outlining the learning from the digital review of village halls, commissioned by CAN, as well as a presentation exploring how CAN is supporting village halls on the journey to becoming net zero, which are available below.
Village Halls make pledges for the coming year
Volunteers discussed and made pledges on what they plan to do over the next 12 months after hearing inspiring stories of innovation, ranging from
replacing all cleaning products with green products
register as an Emergency rest Centre
start recording Oral History interviews with residents
attract younger members to use the hall
View the presentations from the event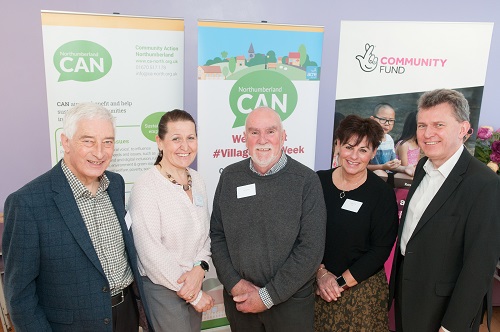 Why Village Halls matter
Village Halls and other Community Buildings play a key role in reducing isolation in rural communities by providing a meeting place for local residents. However, it's not all coffee mornings and knitting classes/proggy mat making as some might expect. Some of the more unusual activities offered include Zumba classes, Tai-Chi, stargazing nights and baby massage classes.
There are 10,000 village halls and other community buildings in England's rural communities, of which 240 can be found right across Northumberland.
At the Northumberland Village Halls celebration event which took place at the end of January 2019, CAN took the opportunity to ask a few people why their village hall is so important to their community. A short film has been created as a result - view the film.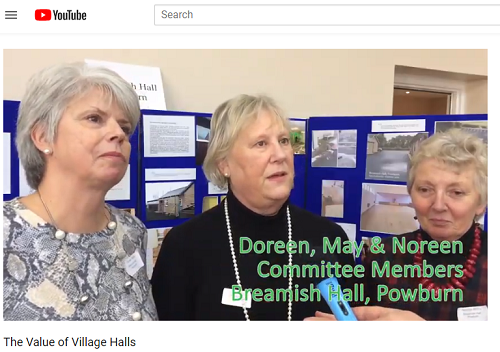 Diverse uses of Northumberland village halls
Village halls, church halls and other community buildings remain a vital resource at the heart of many rural communities, acting as a hub for multiple local services and hosting community enterprises.
Some of the diverse examples in Northumberland include Seahouses Hub which has a thriving community cinema, showing all the latest films in addition to free internet access and a lending library. Rothbury Jubilee Institute also has a monthly cinema – and film showings are popular in even the smallest of halls. There are halls with Post Offices - including Kirkwhelpington Village Hall and Whalton Village Hall. Capheaton Village Hall has a thriving café, popular with cyclists. Harbottle Village hall hosts an outreach GP surgery and Bellingham Town Hall has a library on the ground floor. Some host sports facilities such as Lesbury Village Hall and Longhoughton Sports & community centre.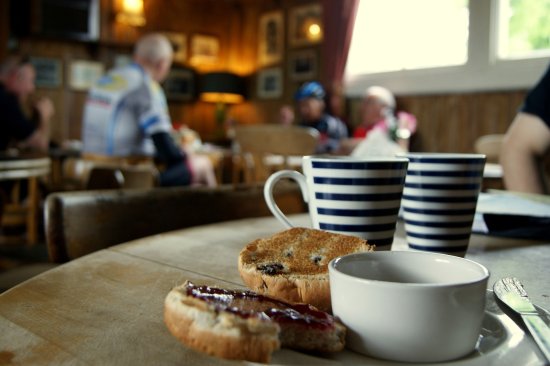 An estimated 600 halls were built nationally to commemorate World War I, or those individuals who perished during that conflict such as those locally at Boulmer and Corsenside. Some of Northumberland's oldest halls date back to the 19th Century, and many were originally 'Reading Rooms' – established to 'educate the workers', and some are Mechanics Institutes or Memorial halls.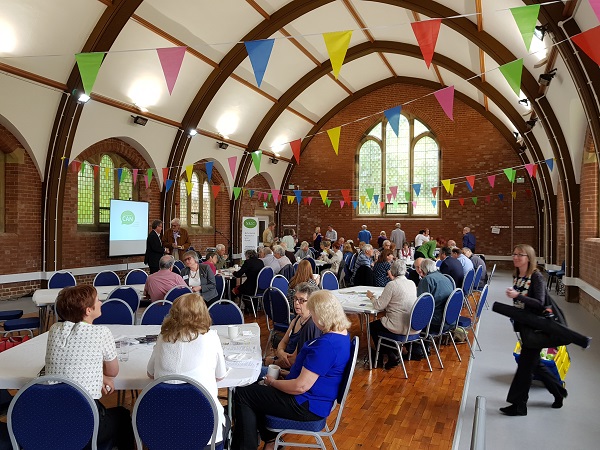 Northumberland's newest hall
2018 saw the opening of the newest, St Mary's Village Hall in Stannington, following the refurbishment of the former St Mary's Hospital Chapel. The new facility will act as a hub for those living in this new rural community having been gifted by Bellway Homes on an 80-year lease.
CAN provides a community buildings service offering support and advice for trustees managing community buildings, led by Louise Currie, Community Initiatives Officer.
Louise praised the initiative:
"We're delighted to celebrate the tireless work carried out by the amazing volunteers running community buildings in our county. Without their dedication, skills and expertise, these vital facilities would be lost to the communities they serve. We are proudly supporting #VillageHallsWeek so we can celebrate the network of halls we have locally, champion the services they offer to their communities and say a big thank you to the volunteers at the heart of it all."
A teapot as big as the moon - the Village Halls Week poem
This poem was written by renowned poet and writer Ian McMillan as part of the first Village Halls
Week in 2018. Listen here to Ian reading A teapot as big as the moon.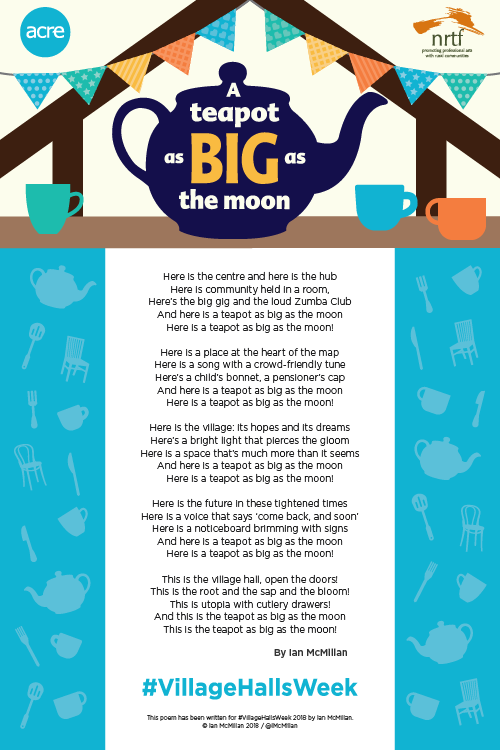 Previous Years Celebration Events
2021 event moved online
We held a special online event for village hall reps to attend to find out more about the new Northumberland Village Halls Portal which was in the final stages of development. This aims to help promote all Northumberland's halls and to enhance access to halls for organisations delivering services across Northumberland.
2020 event held at Breamish Hall, Powburn
Over 100 volunteers came together from 41 halls to the annual event held at Breamish Hall in Powburn, organised by CAN.
The presenter John Grundy was our guest speaker, helping celebrate the true value of village halls with stories of his travels visiting the various halls around our county.
A fantastic announcement was made on the day of £300,000 of funding from The National Lottery Community Fund for 12 village halls which will share the money between them for vital improvement and refurbishment works. This is the second year of a three-year partnership with the Lottery, using CAN's local expertise and support to help the halls produce their funding bids.
2019 event with Ian McMillian at Stannington
CAN held an event in January 2019 in Stannington Village Hall (next to the Ridley Arms) to acknowledge all the hardworking, dedicated trustees who manage halls and community buildings across Northumberland.
The poet and broadcaster Ian McMillian came up with a live Northumberland poem to celebrate our halls with lots of audience involvement!
As part of the event, we showcased the heritage of village halls and the huge contribution they make to rural communities.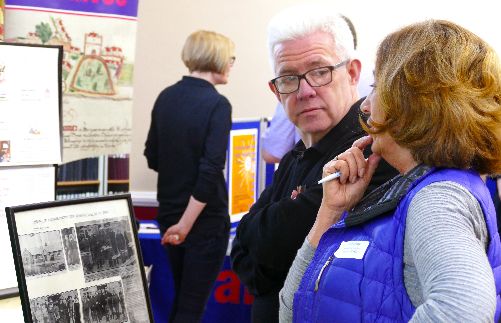 We also announced a major funding boost to village halls as the National Lottery Community Fund, previously known as the Big Lottery Fund, awarded over £420,000 to the Northumberland Village Halls project, led by CAN. This is one of the first projects to be awarded money raised by National Lottery players, under the new name of the largest funder of community activity in the UK.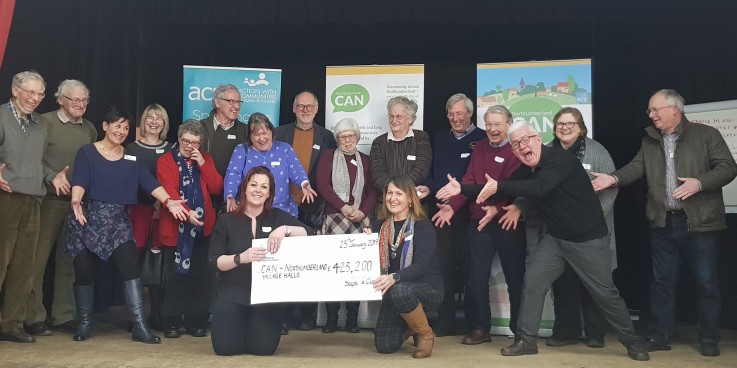 This fantastic news was announced at the CAN Village Halls event in January and means that 11 village halls will all receive the funding they need to carry out important improvement and refurbishment works.
Read more about which halls are being funded