Lottery windfall for Northumberland's Village Halls
27th Jan 2020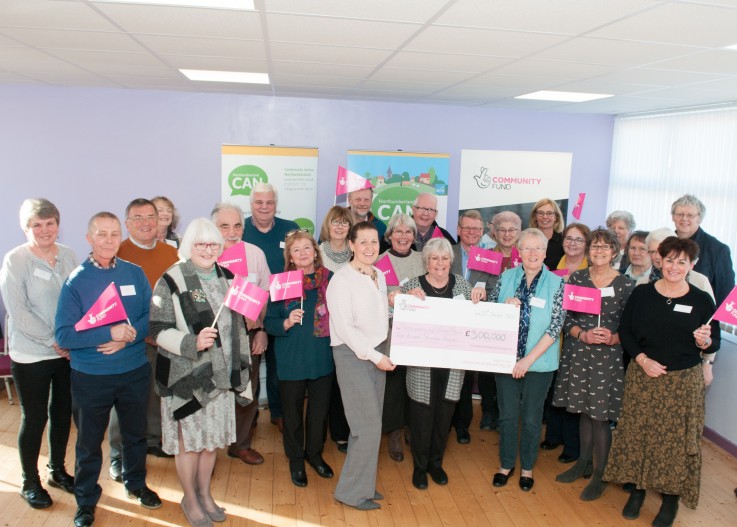 Northumberland's village halls are celebrating after receiving news of £300,000 of funding from The National Lottery Community Fund, announced at an event held yesterday to mark national Village Halls Week. Over 100 volunteers came together from 41 halls to the annual event held at Breamish Hall in Powburn, organised by Community Action Northumberland (CAN).
12 village halls will share the money between them for vital improvement and refurbishment works. This is the second year of a three-year partnership with the Lottery, using CAN's local expertise and support to help the halls produce their funding bids.
CAN has been helping village halls for almost 70 years offering support and advice, with Louise Currie providing the village halls advisor role. Louise explained:
"In rural villages where there is often no post office, no pub, no school or shop, the village hall is a lifeline. Some people would have nowhere else to go without them. Thanks to the funding from The National Lottery Community Fund, we can bring people together with their neighbours and wider community by creating warm, welcoming village halls."
Last year saw 11 halls awarded £390,000 through the project, which managed to then bring in further funding from other sources, leveraging in an estimated extra £200,000.
Lesbury Village Hall received £55,000 to carry out a full refurbishment of the kitchen and reduction of the stage, to increase capacity in the main hall. Jean Humphrys, trustee of the hall said:
''The work has made a huge amount of difference to local people. When people visit to see if they want to use the hall, they are bowled over. We have so many more events now and lots of people who have never been to the hall from within and outside the community tell us it's a delightful place to be. Our regular users are so proud of what they have achieved and even offer conducted tours and demonstrations of the new facilities. The refurbishment has transformed the hall, its flexibility and the way it is perceived. We can genuinely say 'we love our village hall'.
Duncan Nicholson, Head of Funding North East & Cumbria, The National Lottery Community Fund, said:
"Thriving communities are at the heart of Northumberland, and a safe and welcoming village hall can be a beacon to people who live there. Thanks to National Lottery players, this funding will help to provide more services to nearby residents, bring local communities together, and continue to serve them for years to come."
Village Halls Heritage project launched
The event also heralded the launch of CAN's Northumberland Village Halls Heritage Project which has been awarded an £84,600 grant from The National Lottery Heritage Fund to run a 2-year project celebrating the fascinating history of village halls in the County.
The project will be delivered in partnership with Northumberland Archives, and together will support and train up to 300 volunteers from 30 village halls. The work will include collecting documents, photos and personal recollections which tell the rich story of their hall over the years.
Halls awarded funding
The following halls will all share £300,000 of funding this year:
Glanton Memorial Hall
Elsdon Village Hall
Humshaugh Village Hall
Stamfordham Village Hall and Recreational Ground
Howick Village Hall
Acomb Village Hall
Slaley Commemoration Hall
Hepple Village Hall
Carrshield Village Hall
Heddon Knott Memorial Hall
Byrness Village Hall
Creighton Hall, Embleton