Village halls have a role in digitally connecting communities says new research
24th Jan 2022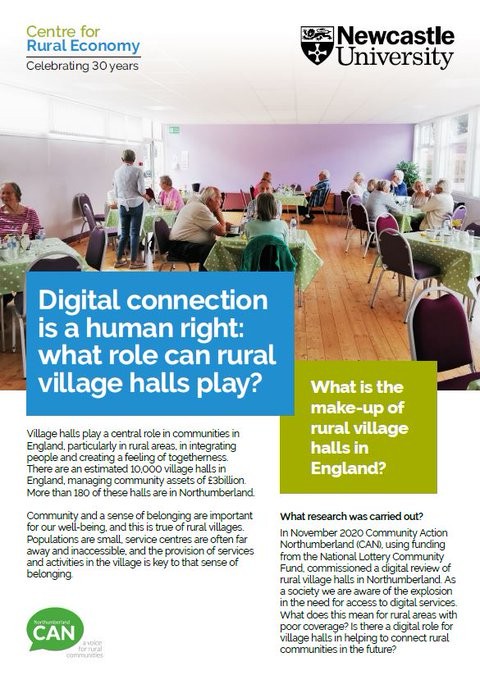 Village halls are aware of the need to become digitally connected and the role they can play as community digital hubs, according to research carried out by the Centre for Rural Economy at Newcastle University and launched today at a Village Halls Week event held by CAN.
The findings show that digital connection greatly enhances the opportunities and services that halls can offer, both to build on existing projects and to deliver new initiatives.
Much of the research for this project, commissioned by CAN, was undertaken during the Covid-19 pandemic which highlights even further the importance that the halls, and the volunteers who run them, have in providing a focal point for community activities and inclusion.
Carried out in Northumberland where there are more than 180 village halls, the research is being showcased as part of Village Halls Week. The Action with Communities in Rural England's (ACRE) national campaign aims to shine a spotlight on the contribution England's 10,000+ village halls make to rural communities.
Research Associate David Kemmett, one of the authors, said: "Village halls play a central role in communities in England, particularly in rural areas, in integrating people and creating a feeling of togetherness. We encountered many examples of halls working to keep people connected such as offering elderly people support in staying in touch with family or providing a space for children to undertake home schooling.
"The benefits of a properly connected hall are demonstrated in many ways but there remain some barriers which we have highlighted and tried to address. Amongst problems identified are availability of Wi-Fi in the locality, cost of installation and subscription, cost of devices and training for volunteers and users.
"We have received great support from local internet provider Alncom in addressing the issue of connecting remote halls and also have identified avenues to explore around training and funding.
"The future of village halls can be a bright one, the dedication and commitment of the volunteers is clear to see and together with the appropriate support can develop to further enhance the communities they serve. It is imperative that government and policy work quickly with the halls to enable them to take on this role of community digital hubs."
The theme of this year's Village Halls Week is 'innovating for the future'.
Read the Brief.
Read the Full Report.