Hallmark scheme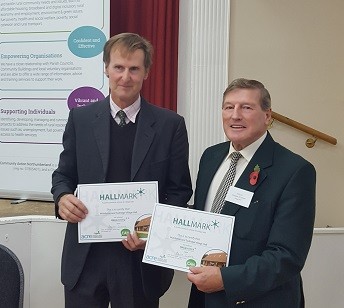 ACRE Hallmark is a quality standard scheme for the management of community buildings/village halls and has been in operation in Northumberland since 2008, managed by Louise Currie.

The scheme has three elements – each lasting 3 years;
Hallmark 1 assesses whether the hall is complying with the requirements of its charitable status
Hallmark 2 assesses compliance with legislative issues
Hallmark 3 examines the role of the hall in community and how it interacts with its users and the wider community
Benefits of Hallmark
Participation in the Hallmark Scheme is entirely voluntary and is beneficial to halls in many ways including:
providing funders and other interested organisations, with a benchmark for a well managed hall
gives village hall volunteers and users confidence that the hall is being managed effectively
some insurance companies will offer discounted insurance for halls which have achieved Hallmark
To gain the Hallmark standard each hall is assessed by two 'visitor' volunteers/committee members of other halls in Northumberland. They have undertaken training as assessors in Hallmark.
Several halls in the county have achieved Hallmark 1 and 2.
How to apply
More details of the criteria and application process for Hallmark level 1 are available in the Hallmark 1 Checklist and Hallmark 1 Entry Form.
Please contact Louise Currie to discuss your application in more detail before submitting your entry form.
Become an assessor
Louise would also be interested to hear from any experienced community building trustees who would be interested in volunteering as a Hallmark assessor.