Pop up hubs show benefits of slow cookers
26th Feb 2019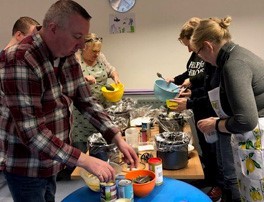 At the end of last year, Community Action Northumberland (CAN) started to roll out an exciting new initiative which builds on the work of its hugely successful Warm Hubs project. Funded by Northern Gas Networks, its new pop-up Warm Hubs are a series of events which aim to bring similar benefits to areas not currently covered by the main project. The first pop-ups in 2019 highlighted the benefits of slow cookers.
Often people on low incomes struggle to pay for energy bills and may go without hot food because they can't afford to switch on their ovens. Slow cookers provide a low-cost, easy to use an alternative way of cooking a hot and tasty meal. At each of the sessions, Christine Nicholls explained the benefits of slow cookers and gave participants the chance to try out cooking a choice of tasty affordable meals and to enjoy the results.
At the end of the sessions, everyone was given a slow cooker with an accompanying recipe book to take away.
Slow cooker events were delivered in Amble, Haltwhistle, Hexham and Prudhoe and in total approximately 30 people took part. The sessions proved to be not only useful but also great fun and everyone went away inspired to try new recipes at homes.
One attendee, Alison, said: "My daughter-in-law has suggested I should get a slow cooker, but I've never really thought about it. I didn't realise how much time and money it would save. Now, thanks to this great project I finally have one, and I'll use it all the time.'"
Another participant, Janet said: "My gas bills recently went up from £12 to £30 per month. Anything that will help lower my bills is fantastic. Thank you for my slow cooker – it will make such a difference."