Rural Food Kitchen project makes a real difference
21st Dec 2020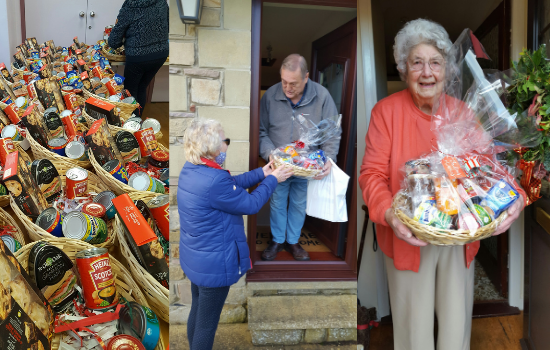 CAN has been running a pilot 'rural food kitchen' project with funding from the National Lottery Community Fund's Coronavirus Community Support Fund. Volunteers from 6 of our Warm Hubs have been providing an outreach service to vulnerable residents across the county, trialling a range of different approaches and activities. The project will run until the end of March with warm hub kitchens being used in a more innovative way to ensure those most in need are still supported.
Pat Booth from Longframlington Warm Hub tells her story so far:

"St Mary's Church Warm Hub team made and delivered a festive Christmas Lunch for those in Longframlington that needed a little extra Christmas cheer during the pandemic. Coronavirus had affected so many people in different ways, but especially those living on their own, those who were isolating or were vulnerable in any other way.

"And what a great success it was! Three manic days filled with cooking, delivering and laughter! We were overwhelmed by the response from our diners! We heard that one couple got all dressed up in the best outfits to sit down and have their 'Christmas lunch' early.




"Our drivers enjoyed themselves too despite getting thoroughly soaked! 2 Vicars, Michael and James, a retired BBC sound man, John, a NHS Media specialist, Jane, an author, Charlotte, and a retired JP, Virginia. What a great bunch. All kept under control by our own David Carr MBE who was in charge of our delivery plan and drivers.

"Our kitchen team, Ian, Val, Vicky, and Glenys did a sterling job preparing, cooking and serving the meals. Good humour and a tin of toffees helped us get through – and we can't forget Audrey, our Church administrator, who ensured we kept to our budget and looked after the books.




"We are proud to say that we achieved what we set out to do which was to bring a little festive fun (everyone was thrilled with the hampers filled with Christmas cake, mince pies, chocolates, biscuits, jam, a satsuma etc. an NHS goody and info pack and Age Concern activity pack with kits to make a bird feeder or a garden spinner) and a festive feast to our elderly, vulnerable and isolating villagers."

A similar story has been repeated in all 6 pilot rural food kitchens. We are so incredibly grateful to the volunteers and contributors at each Warm Hub for their efforts and the real difference they have made. We certainly intend to build on this success in 2021 and help all our Warm Hubs to reach as many people as possible.