New employment hub to support jobseekers in Alnwick
20th Jun 2019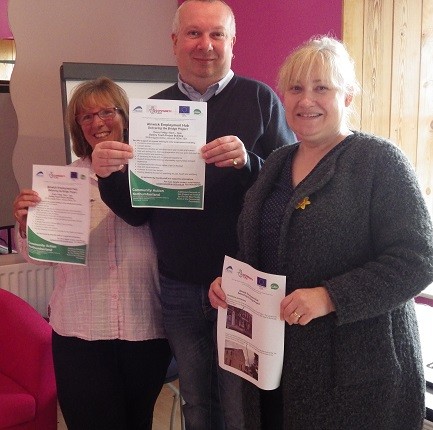 Job seekers in Alnwick are set to benefit from a new free service ran by CAN providing support for anyone looking for employment or training. The drop-in support group will open every Friday from 10am – 3pm at the Gallery Youth Project, Corn Exchange Lane in Alnwick.
Group members will be able to access the internet to carry out job searches, benefit from one to one careers guidance, get help with completing CVs and job applications, and support with improving IT skills. A free lunch and refreshments will be available and the potential to offer travel expenses for those coming from outlying areas.
This latest hub from CAN joins four other successful hubs in Amble, Haltwhistle, Hexham, Prudhoe, run as part of the Northumberland Rural Employment Hubs delivering the Bridge Project.
Julia Plinston, Community Development Officer at CAN said:
"It's great to be able to expand this service into Alnwick, having seen how well received it is elsewhere by people in other parts of Northumberland who say there is a real gap in this kind of help. It's also lovely to have volunteers helping run the project who originally started out with us as members of the Amble Employment Hub. We all look forward to offering the same level of support to residents in Alnwick."
The Rural Employment Hubs support unemployed residents in rural areas of Northumberland to overcome the multiple barriers they face when looking to move into employment. The project recognises people in rural areas face additional difficulties when searching for work, including fewer local employment, volunteering and training opportunities, higher travel costs both to sign on and to attend interviews, and poor internet connections, making online job searches more difficult.
CAN's rural employment hubs are offered as part of the Bridge Project, a partnership hosted by Northumberland County Council and delivered by 7 voluntary sector organisations who can offer a wider range of extra support for people who face multiple barriers to training.
These extra services include a Bridge Worker to work with them on a one to one basis to develop a personal development plan, benefits and debt advice, counselling and life coaching, English, maths and IT training and supported volunteering opportunities. People can access these partner services by coming along to the Alnwick Employment Hub.
If you would like to find out more about the project, or are interested in booking an appointment, contact Julia at juliaplinston@ca-north.org.uk or phone 01670 517178. This project is funded by the European Social Fund and The National Lottery Community Fund.