Haltwhistle Unemployment Support Group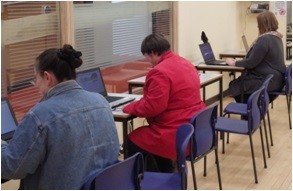 The project aims to support unemployed people living in Haltwhistle and the surrounding areas to overcome the multiple barriers they face in looking to move into employment. The project recognizes that people in rural areas have additional difficulties in searching for work over and above those faced by people in urban areas including fewer local employment / volunteering / training opportunities, higher travel costs both to sign on and to attend interviews, and poor internet connections making on-line job searches more difficult.
The Support Group is open to anyone who is employed less than 15 hours a week and aims to provide support tailored to the individual's needs (whether they are young or old, have physical disabilities, mental health problems or learning disabilities, parental or caring responsibilities etc).
Sessions are 10am to 3pm every other Thursday at Haltwhistle Swimming and Leisure Centre. Members are offered, access to the internet to carry out job search activities, one to one support with IT skills, planning job seeking activities, and addressing any underlying health and social welfare issues that may limit their ability to seek work, and group sessions on issues such as writing CVs and application letters, and preparing for interviews.
We aim to offer a warm and supportive environment where members can feel able to relax, and meet with other unemployed people for mutual support. Tea and coffee and a light lunch are available free of charge.
For more details about this project, download the current programme here
or contact Julia Plinston on 01670 517178 or via info@ca-north.org.uk
The Haltwhistle Unemployment Support Group is funded by Isos Housing Group and RBS Skills and Opportunities Fund