COVID-19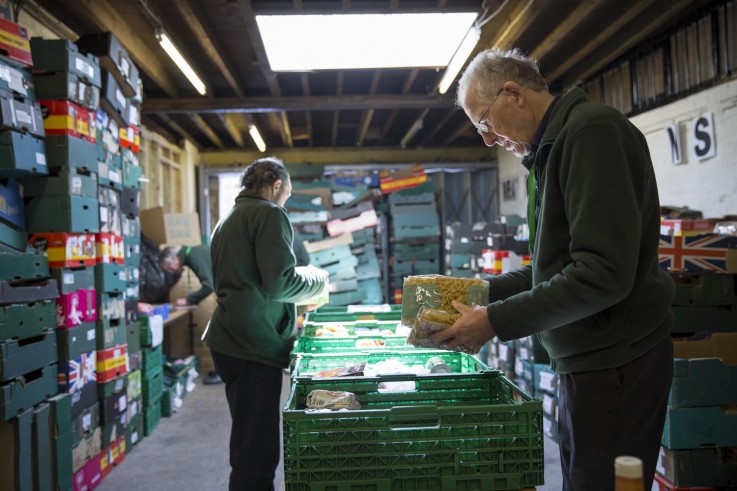 Coronavirus Northumberland Advice and Community Response
This page has advice and information for rural communities in Northumberland responding to the Coronavirus outbreak and will be regularly updated. Sign up for our ebulletin to get additional updates.
Register your local group organising aid
Looking for local help
Advice for your group/organisation
I want to volunteer
Advice for village halls and community buildings
Register your local group offering support
Northumberland CVA has produced a website of support currently available in the community
To be added to the sheet if you are a voluntary and community organisation, local support group or local business fill in this form.
Looking for local help?
Food parcels
The Government has established a system to ensure those most severely at risk of illness will receive free essential food parcels delivered to their front doors.
Register yourself or someone you know.
Northumberland Community Response Hub
For anyone struggling with support needs, and are unable to get help from family, friends or a local support group, the council has set up a Community Response Hub as part of Northumberland Communities Together - email northumberlandcommunitiestogether@northumberland.gov.uk, or call 01670 620015 between 9am to 6pm, seven days a week.

Northumberland CVA directory of local help
This is a comprehensive directory of local help which can be searched by the area you live in.
Covid-19 Mutual Aid Local Groups are small groups of people setting up independently in communities to support vulnerable people in their local area through the outbreak.
Find your nearest COVID-19 community support group with this map.
Worried about a child or adult's welfare in Northumberland? Contact Onecall on 01670 536 400 - open 24/7, 365 days a year.
Onecall brings together adult social care and healthcare staff from the NHS with Northumberland County Council staff from children's services, and partners in Northumbria Police.
Protecting the Isolated and Vulnerable
Neighbourhood Watch has produced comprehensive guidance on protecting the isolated and vulnerable whilst social distancing.
Pre-payment meters support
New emergency measures with the energy industry have been agreed by the government to protect the domestic energy supply of those most in need during the disruption caused by COVID-19.
Customers with pre-payment meters who may not be able to add credit can speak to their supplier about options to keep them supplied. This will benefit over 4 million customers. More information
Ordering Heating Oil
You can still order oil through CAN's oil purchasing scheme from www.af-affinity.co.uk
Advice for your organisation
NCVO has created a very thorough page of resources and advice, regularly updated, to help you decide what steps you may need to take.
If you are still carrying on support work during the outbreak here is a list of guidelines for safely working.
How to continue to volunteer safely - short slideshow
The Charity Commission has produced guidance to help with running your charity during the outbreak.
New temporary changes to standard and enhanced ID checking guidelines
Posters for front doors of buildings
Public Health England has produced a range of sample posters to be used on front doors of buildings asking people who have possible Coronavirus symptoms not to come into the hall. Download from PHE Resources.
Guidance for Community Transport
The Community Transport Association has produced a document called Coronavirus/COVID-19: Guidance for Community Transport. This document includes useful information such as precautions you should take, cleaning your vehicle and cancelling services.
Emergency funding
The Coronavirus Recovery and Response Fund has been launched by The Community Foundation in Tyne and Wear and Northumberland to help community organisations support older people and other vulnerable groups during the COVID-19 outbreak.
The North East Growth Hub has financial support available for businesses.
I want to volunteer
NHS asking for volunteer responders
The volunteers are needed for delivering food and medicines, driving patients to appointments and phoning the isolated.
The scheme is one of a number aimed at relieving pressure on the NHS.
Sign up as an NHS Volunteer Responder
The British Red Cross is compiling a list of Community Reserve Volunteers for which you can register yourself.
You can register with your nearest COVID-19 Mutual Aid community support group, find them with this map.
Advice for Village Halls and Community Buildings
Thousands of village halls will be temporarily closing their doors to the communities they have supported; some for over 100 years. For the community there is dismay and uncertainty about when they will be open again and their committees will be taking a hard look at the long-term future of their Hall.
You can access our national body ACRE's guidance for halls' eligibility for support from government using the link below.
Read ACRE's Guidance on Eligibility for support from Government for village and similar rural community buildings
ACRE produced the following statement on 18 March 2020:
"On 16th March 2020, the UK Government announced that people should "avoid large gatherings, and gatherings in smaller public spaces such as pubs, cinemas, restaurants, theatres, bars and clubs".
"Village Hall Management Committees running charitable halls have a duty of care in providing a safe facility for the community to use and should conduct a thorough risk assessment before deciding whether to close the hall or to limit its use. Committee members who are volunteers themselves will need to consider their own personal situations and vulnerabilities alongside the financial and community implications of closing the hall. Some halls provide space for schools and pre-schools that currently remain open.
"Government guidance should, of course, be taken into account during the assessment."
Louise Currie, our Village Halls advisor has produced some accompanying advice following guidance from our national body ACRE and statements from the two main insurance companies.
This advice is given as of 6.10pm on 18th March 2020. It is likely that the situation and advice will change rapidly and continuously, during this period. It is the responsibility of the reader to ensure that they check current advice.
These are very unusual and challenging times and there is some flexibility required in the management of halls during this period. The Charity Commission has posted guidance to the effect that trustees can, in the best interests of their charity take such actions that are 'outwith' their governing documents. Such as:
postponing AGMs, (several halls in Northumberland have already taken this action)
holding meetings electronically instead of face-to-face (even if this is not normally allowed for in the gov doc),
co-opt new trustees.
The decision to reduce day-to-day activity, or to close the hall, needs to be made by the whole Management Committee, taking into consideration, the best interests of the community, the hall charity, and Government guidance.
We would advise that the hall committee should undertake a risk assessment prior to making any decisions, keep their decisions under constant review and ensure that all decisions are properly recorded in the minutes.
As part of this assessment, the Hall Management Committee should check the following:
1. The terms of the Hall's insurance policy – does the hall have business interruption insurance?
Norris & Fisher Insurance Services Limited and Allied Westminster Insurance Services have made their positions clear. See their statements below.
2. The Hall's reserves' policy may have set aside funds for operating costs but if not, then the committee will need to decide how to pay the essential bills.
3. Look at the cancellation terms set out in the Hall's hiring agreement. If the Hall doesn't have a formal arrangement in place, it may be possible to rely on 'government advice' as a reason for cancellation,
4. Look at the impact of closing the hall on the services and businesses that may use the hall - i.e. pre-schools that have not been required to close(though we think that this is now a requirement) a community shop or perhaps a foodbank. It would be difficult to make a 'blanket decision' to close halls in this situation.
5. Consider any actions required in relation to employees and self-employed staff.
6. It would be advisable that a member of the committee takes the lead - to ensure that all hirers are informed of cancellation of bookings and the situation regarding charges.
ACRE will be discussing several matters with the relevant Government Departments in due course - and this will be passed on to you as and when we hear more.